Meaning and History of Claddagh Ring
Rings and jewelry have managed to become an important part of our lives, religion and culture, but one of the old Irish tradition managed to leave a larger impact on our modern history – tradition of Claddagh ring. This trading consisted of young males gifting their female lowers with the ring with the symbols of heart and hands, symbols that represented love, friendship and loyalty. Originally they were created as the continuation of the tradition established by Romans, who used "loyalty" rings with hand symbols. These rings speeded across all lands where Romans had influence, transformed into famous Ireland wedding tradition, and eventually birthed worldwide known tradition of engagement ring.
Modern tale of Claddagh rings started in 17th century in fishing village of Claddagh, near Galway, Ireland. There, local metalworkers started producing rings based on a local legend about man who gave his female companion a ring before leaving home to work overseas, intending to marry her when he returns. During his journey he was captured by sea pirates, and after a long struggle he managed to return home, marry her and give her Claddagh ring. As this legend started spreading across Ireland, Claddagh rings started being used more and more.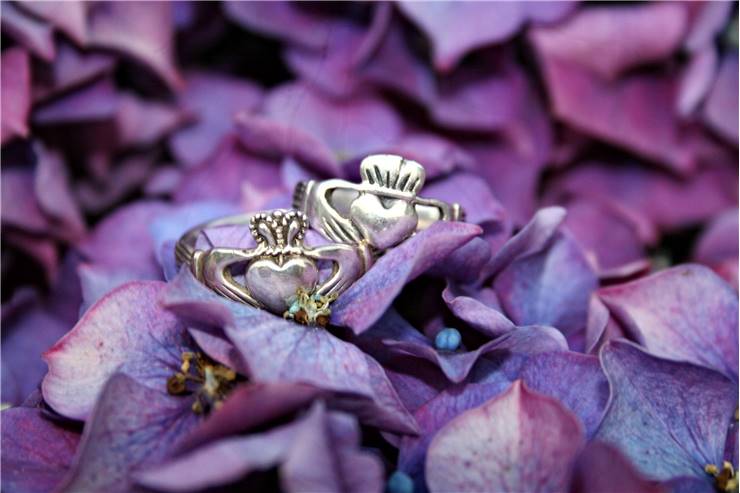 Lovers gave those rings one to another (wearer was initially only woman, but sometimes couple would gift each other rings), mothers would give their rings to their firstborn daughters to wear them on their wedding day, modern Irishmen that live away from home wear them in public as a symbol of their nation, and off course they use it as engagement ring or a symbol of "availability".
Claddagh ring features two hands holding crowned heart. Heart represents love, hands represent friendship, and crown represents loyalty. Throughout the centuries Irish men often spoke the words "With my two hands, I give you my heart, and crown it with my love" or "Let love and friendship reign forever" when they gave the ring to their partners.
In modern times, Claddagh rings are used not only as a symbol of friendship and love between romantic couple, but also as a fashion statement with traditional symbols being grafted on chains, bracelets, brooches, and more. Modern Claddagh rings are created entirely from gold or silver.